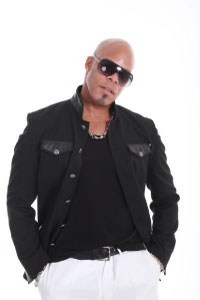 Ray Horton
Ray Horton has rightfully earned the title of Europe's most romantic singer. His voice is known all around the world.
Songwriter, singer and producer Rayland Horton was born in Germany in the city of Heidelberg. His father, a U.S. Army officer, soon took young Ray and his twin sister to the U.S.A. There they lived in Seattle / Tacoma, Washington.
Since an early age the young man has been keen on singing and sang in the local church choir, where he received the best vocal training. The young singer's talent was noticed and he was entrusted the performance of a soloist. Little Ray's large and clear voice captured the entire church. Then he realized that he was on the right track and decided to devote his life to music.
Years later, fate brought the young musician Ray Horton with mega-producer Frank Farian, who invited Ray to his the studio to record a song which later was performed by group Milli Vanilli. But soon after a worldwide famous PLAYBACK scandal, was then formed a new band, called "THE REAL MILLI VANILLI" (1990-1991), the lead singer of which became Ray Horton. In 1992, the group was once again subjected to the Reformation and was named TRY 'N'B.
Henceforth the cooperation of Ray Horton with the European rap artist NANA Abrokwa brought him even more popularity and success. Their joint song "I remember the time" was well received all over Europe and beyond. It was a real hit, which was followed by great popularity, and a busy tour schedule and a lot of new collaborative hits with the rapper Nana.
Western Europe and Russia are well aware of the song performed by Ray Horton "Remember The Time", "Because I Love You" and "Hotel California", "I cry", "Tell my heart". In 1999, Ray Horton released his only solo album «First time», which included the singles "Because I Love you", "I Cry" and "Tell my Heart". This album was a great success.
Rayland Horton is not only one of Europe's most talented vocalists, but also a professional vocal coach. His master classes are in high demand around the world. Two of the top finalists of the popular German music programs "Deutschland sucht den Superstar" and "Big Brother" are his students.
Now Rayland Horton is a lead singer, producer and composer. He has collaborated with artists such as Julio Iglesias, Chris Rea, Backstreet Boys, 'N Sync, Sarah Connor, No angels, Fun Factory, etc.
In recent years, Ray Horton is closely working with the German dj-project Movetown. Together, recorded tracks "Girl you Know It's True", "Lonely", "Round n Round" was a huge success in Germany, eastern and western Europe. The latest tracks from Movetown feat Ray Horton "Here Comes The Sun" became a real hit, and is enjoying a huge successful #1 radio airplay and rotation, on numerous European radio stations, which is a confirmation of professionalism, boundless talent and ability to create good, real music, marching in step with the time.
At the moment, Rayland Horton is actively engaged in his solo career. In 2012, Ray Horton took part in the popular music TV show Voice of Germany. This project has brought even more recognition and popularity to the artist in his home country.
Ray Horton has toured extensively throughout the world. His live performances are always unforgettable, they are charged with positive and insane energy. He easily manages to win the recognition of the audience thanks to the boundless talent and love of music!