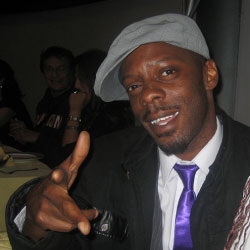 ICE MC
Most of you who like Italo-Dance for sure know his name. Ice MC's real name is Ian Campbell. Originally from Nottingham in the East Midlands of England where he was born on the 22nd March 1965, Ian grew up in the area of Nottingham called Hyson Green (sounds like Ice n' Green). His parents had moved there from Jamaica in the 1950's along with a large number of their country men.
They lived together and strived to keep their identity and maintain their cultural traditions. They continued to speak their own dialect "Jamaican Patua" which is not easy for other English people to understand although 30 years of Reggae Music has helped them. No better dialect for Raps and Rhymes just like the ones that he wrote for hits including Easy, It"s a Rainy Day,, Think About The Way, Take Away The Colour. Unfortunately he was never credited for these lyrics.
At school his intials IC soon got him the nickname Ice. After leaving school he hung around Nottingham for a couple of years until in 1983 he joined a group of breakdancers and started touring Europe with them. One such tour landed him up in Florence and he decided to check it out. He"s still checking. For a while he worked teaching breakdance then started doing a bit of DJing. In his spare time he was soon rapping and improvising in local bars and clubs. He also made two promo records one for a Club in Rimini and one for a label in Florence. In 1989 he met Robyx (Roberto Zanetti) the writer, producer and singer for now classic Italo-Disco group Savage. Exactly in 1989 he released his first hit Easy. This first single, was an immediate success and went Top 5 throughout Europe, no. 3 in Germany and also was very big in South America. The LP Cinema followed shortly afterwards and was also a big success. The artist has toured throughout Europe including Russia and even Siberia, South America , and North Africa. Then came My World and then Ice 'n' Green which was his biggest selling CD with three big hits. His image was of "clean, next door guy". Not anymore. When he released his mega hits like Take Away The Colour (1993), Think About The Way, It's A Rainy Day(both 1994), he got that Bob Marley Jamaican look that he keeps also today. Also in his songs produced from 1989 to 1995 main female vocal was done by Alexia. Songs from that time are very rhythmic and typical Hi-Energy records with Reggae influence.
In 1995 Ice MC was in dispute with his Manager, Label, Producer, Agent, Publisher and Co- author. That's not as bad as it sounds as they were all one and the same, Roberto Zanetti. Ice first got himself a new Management and then a new Label (Polydor Germany). The dispute has still not been settled and Ice MC is sueing Zanetti for his songs and a couple billion Lire which might not sound a lot. After long period of silence, in 1996 he released his single called Give Me The Light, that become an immediate hit in the Euro-dancefloor in the summer 1996. This song was a join production of Ice MC and Mega-Dance German group Masterboy. In August of 1996 Ice MC released his newest album called Dreadatour with new songs written actually by several different writers. This new album has been given different reviews, from raving to mediocre or even bad. In this album Ice MC presents his new image, lyrics has a political content and in many of the songs Ice MC expresses his feelings. You will find there many hot, dancable tracks. You will also for the first time can hear the new female vocalist Valentina Ducros (born, 06,19, 1974). She is an Italian girl originally from Rome. Valentina has a fiery temperament and quite strong and nice voice.
Ice MC is very dynamic when he performs. Rapping, Hip-hopping, Raggamuffining and Jamaican Rhythms that all well describes Ice MC.