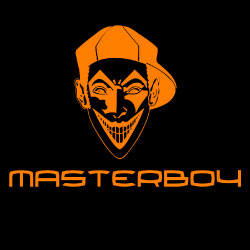 MASTERBOY
Masterboy are Tommy Schleh, Enrico Zabler and the singer Beatrix Delgado.
Summer 1989. The sound creator Enrico Zabler met DJ Tommy Schleh in a club of London and afterward decided to start working together. At that time Rico lived in Heidelberg and Tommy in Sinnsheim.
January 1990. Enrico and Tommy formed now officially a group called MASTERBOY (Their mixing table's brand begun by Master, and they were 2 boys)
and released their debut single Dance To The Beat.
November (1990). Masterboy returns to recording studio. Their hobbies: tennis, squash, fast cars were put away. Their fans wanted more music.
The results was second single Shake Up And Dance released in November 1990. In December video to accompany the single was made.
January 1991. Shake Up And Dance is climbing high in charts.
Summer 1991. Masterboy is celebrating their charts success all over the Europe. They are approached by British group Pet Shop Boys
that wants single Shake Up And Dance to be released in England on their label (Spaghetti Records).
September 1991. Their first album The Masterboy Family was released.
Year 1992. Masterboy were performing in and outside of Germany. Enrico was searching for new, innovative sound for the group.
Tommy was looking for right beats. Both of them spent most of their time behind the turntables preparing new production to be released.
August 1993. The single Everybody Needs Somebody, a second one from Feeling Alright album was released. Everybody Needs Somebody climbed into # 41 position in TOP 100. Single was also present in all European Dance Charts with good ranking, hitting Top 10 In France, Brazil, Top Twenty in Sweden, Israel (where it reached # 17), Canada, Austria, Switzerland and Top Thirty in eleven other countries. It was the first Masterboy single to have a video clip shot.
September 1993. Masterboy's single I Got To Give It Up was in production.
February 1994. The video to I Got To Give It Up was made in London. This video was highly rotated in MTV and VIVA TV channels. In March this track reached position #13 in MM charts and stayed several months on the top of official European dance charts. It was #41 in France, #17 in Switzerland.
July 1994. Masterboy released their chartbreaking single Feel The Heat Of The Night. The single started at position # 34 in New Singles from Media-Control Charts and soon climbed to Top 10 (position #8), went # 13 in Israel, #16 in Switzerland, #37 in Sweden. It did even better in France where it peaked to #2 and remained at that position for four consecutive weeks. Then it stayed six weeks in the Top 10, and ten weeks in the Top 20. It re-entered French charts in May 1995 for almost eight months. It was remixed by the Bermann Brothers (the Shark mix).
August 1994. Masterboy released their third album Different Dreams. This album once released got into Top 20 (at position #13) and remained on that list for several weeks.
September 1994. Masterboy received in Germany gold for more than 300 000 copies of Feel The Heat Of The Night single being sold. This single was storming almost any dance floor in Europe.
October 1994. Masterboy was in tour all over Germany : 40 gigs in 4 months proved that the group did not lose contact with their fans. The new single Is This The Love released in the end of the year immediately found its place on Top 20 and stayed in Top charts for several weeks, peaking to #12 in France, #37 in Sweden.
Meanwhile, in France erupted genuine Masterboy hysteria. After Feel The Heat Of The Night, Is This The Love was released in France followed by the title song from the album Different Dreams. The single Different Dreams was released, reaching #16 in France. It was followed by a Megamix which reached #11 in France.
In March 1995 this album received gold status in France. With position #7 in Album Charts and three singles with high positions in French TOP singles charts Masterboy became the most successful foreign group in France with 2 Unlimited.
March 1995. Masterboy went on tour to Brazil. What happened there exceeded their imagination. Their songs for four weeks stayed at #1 position of Brazilian charts. Everyday their songs were aired at least 20 times a day. The group became a headliner for two Brazilian festivals. In downtown of Sao Paulo and Ipanema beach of Rio De Janeiro almost 70 000 of Masterboy fans sang and clapped their hands during the group performance.
June 1995. The new single Generation Of Love was released simultaneously in Germany and France. The video for this single was shot in Oil-Factory Studios in London, directed by Jonahhan Bate. The team finally did find some time to do shopping in London, a city which had a special meaning for Enrico and Tommy who first met there in 1989. Enrico says: 'To be here is like returning to the roots'. That recording session in London was actually quite hectic. They have arrived to London from Frankfurt (Germany) after two hours delay. They went for shopping spree to exclusive Carnaby Street. In 'Flashpoint' they were entertained as old friends by Chinese manager. Tommy went to male department that was selling velvet jackets, cotton shirts and pants. In 'Quarzo' Enrico was astonished by Scottish chequered cloth. Trixi was spending all her money buying gourmet tea in 'Wittards'. Tommy won the competition of who was going to spend most money in shortest time. He spent 800£ in 1 hour.
In Germany Generation Of Love climbed to #16 of German Charts and stayed there for several weeks. This single was not only a success in Germany. In France it entered the Top 100 Charts as rising hit, finally reaching #8. Also in Austria, Sweden (#20), Switzerland (#19) and Belgium it was Top 20. Later in 1995 Masterboy went on tour to major French cities with the boys group East 17.
Generation of Love was an announcement of the Masterboy's fourth album under the same name that was released in 1996. Artists were working on it in Walldorf. The Solid Rock Baptist Church Gospel Choir from Heidelberg participated to the recording. Most of the text and music were written and composed by Enrico and Tommy
October 1995. New single Anybody was released. It peaked #20 in France, #22 in Sweden, #29 in Switzerland. In the end of October the fourth Masterboy album: Generation Of Love was released. Many of the tracks of this album were covered by other Eurodance projects : Feel The Fire was re-recorded by The Forest, Land Of Dreaming was adapted in Russian by Di Bronx & Natali.
January 1996. The new year Masterboy started with a hit : Land of Dreaming was released. This single had a heavy rotation on VIVA and MTV channels. This track was like the third mostly airplayed song on the radio and reached position #12 on MM-charts. It was a world-wide success, reaching #19 in the Netherlands, #20 in Switzerland, #22 in France, #32 in Sweden. In States, U.S. remixes of this song went to position #12 of Billboard Dance Charts.
January 1997. Masterboy was nominated as the most successful German single Act of 1996. They also got a Chartbreaker Prize of 1996 (DJ TOP 40). Meanwhile the ballad Just For You, third single from the album Colours was released. The beautiful video was shot in Göteborg cathedral (Sweden). Just For You was #50 in Switzerland.
July 1997. The next single La Ola Hand In Hand recorded in euro-reggae style was a Masterboy's offer for Summer 1997. The bonus track in the CD-5 was a more progressive sounding song : Set Me Free (previously unreleased). It went #44 in Germany.
November 1997. Between the 24th and 29th Masterboy stayed in Mexico and played in several TV-shows. In the first week of December they travelled to Prague for 3 days for a live appearance in a big festival. In December they were also working on new singles for the boys band Worlds Apart.
Besides that they begun their collaboration with other Eurodance groups, for example Worlds Apart. Kyra from Pharao recorded with them her first solo single (no-one knows if it was really released). Stay C from Twenty 4 Seven is an another example. And in the middle of 1995 they appeared in a TV commercial for a new CD player.
2003 : Masterboy's new single will probably be Feel The Heat Of The Night 2003.
2005 : a double CD entitled Greatest Hits Of The 90s And Beyond was released in Asia.
2006 : a best of album of the Masterboy was released in Russia without authorization of the Masterboy members. It contained some unreleased tracks. At the end of the year, the rumors that the Masterboy were back in studio and could release a brand new single at the very beginning of January 2007 started to spread.
2011 : the Masterboy were in studio working on new songs. A new single could be released for September.
And now years later: Masterboy is back, with the original singers with all their hits from the 90's rock Masterboy back on stage and on tour.