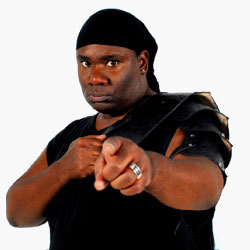 TURBO B - SNAP
Turbo B (born Durron Maurice Butler, April 30, 1967, Pittsburgh, Pennsylvania) is an American musician, rapper, DJ and beatboxer, best known for his time fronting the music groups, Snap! and Centory.
Turbo B started his musical career as a drummer with a heavy metal band in his hometown. He was sent to Frankfurt in 1985 by his Uncle Sam to become a bomb disposal expert. Rico Sparx and Moses P discovered he was a first class rapper and human beat-box. After his discharge he returned to the USA but went back to Germany to continue his musical career.
His talents earned him spots with acts such as Maze and The Fat Boys. He has shared the stage with such artists as Chaka Kahn, Michael Jackson, Natalie Cole, Sinbad, Hall & Oates, and even Tom Jones. He also collaborated with Mark Spoon.
Germany-based producers Benito Benites and John Garrett Virgo III, had put together a project they would call Snap!, after a function on a sequencing programme. They recorded a song called The Power which was built from samples of New York rapper Chill Rob G (Robert Frazier)'s Let The Rhythm Flow. They added the powerful female backing vocals of Penny Ford. The record was first released on the Wild Pitch Records label in America with the credit Snap! featuring Chill Rob G. However, after the first 30,000 sales problems with Chill began to manifest themselves and they sought a replacement. They chose Butler, who was renamed Turbo B.
Chill was allowed to release his own version of The Power in America. Around the rest of the world a new version, featuring Turbo B, topped the charts. To promote the record, Turbo and Penny Ford toured widely, before she started on a solo career and was replaced by Thea Austin. Success continued when Rhythm Is A Dancer became another international smash (the biggest selling UK single of 1992).
Turbo had signed up for a solo career (debuting with I'm Not Dead on Polydor Records, with vocals by Thea) while the Snap! single was still climbing in several territories. Thea Austin too found herself a solo contract.
Between 1994 and 1997 Turbo B created many projects in which he appeared or not : Centory, the Porn Boys... He did raps on Comic's I Surrender To Your Love. Then he moved to Orlando (Florida).
Turbo still tours frequently around the world with his music, playing to huge crowds! In 2009 Turbo joined MC Hammer and Vanilla Ice on the 'Back 2 Cool' tour.
As well as continuing to tour performing songs such as mentioned above, 2014 sees the re-launch of Turbo's solo career with some huge dance tracks being released throughout the year. The first release "Last Call For Alcohol" hit the top 50 in The Official Dance Charts in its first week with release in other territories to follow.........