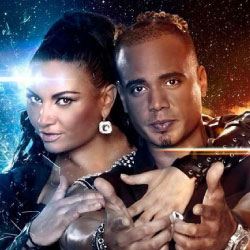 2 UNLIMITED
2 Unlimited was a Dutch/Belgian eurodance group formed in 1991. The project was the brainchild of producers Jean-Paul DeCoster and Phil Wilde, and fronted by the Dutch duo rapper Ray Slijngaard and singer Anita Doth.
During five years of enormous worldwide popularity the act scored 16 chart hits, including "Get Ready for This", "Twilight Zone", "Tribal Dance" and their record breaking "No Limit". This #1 single topped the charts in over 40 countries. During their career, 2 Unlimited have sold more than 20.000.000 records worldwide.
On 11 April 2009, Slijngaard and Doth performed together for the first time in 13 years at the "I Love The 90s" concert in Hasselt, Belgium. In January 2010 they released a new single together called "In Da Name Of Love" under the name of Ray & Anita. It became a Top 5 hit in the Netherlands and was licensed to 34 countries!